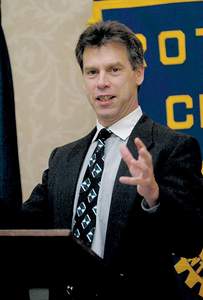 Joseph Oddo delivering speech during the 2006 campaign.
Transcript of five minute News8TV taping.
Joe Oddo, Independent Candidate, US House of Representatives
Oct 6, 2006
A patriot must always be ready to defend his country from his government.
I'm Joe Oddo, Independent Green candidate running for Congress and I encourage you to get involved. To run for office. To insist we be allowed in the debates. To fix our democracy. And stop the mudslingin
I believe in expanding civic participation by fixing election rules and instituting universal registration. Anyone that shows up at the right polling place with their official ID should be able to register and vote on the spot.
Plus we should expand the hours of Election Day, or make it a holiday so everyone can take off work to cast their vote.
Our team of Independents have spent weeks out in all weather extremes to qualify to make the ballot. We talked to over 150,000 Virginians who understand the need for Independent voices. And by listening to your concerns, we have formulated a sound platform that addresses diverse issues like lobby reform and term limits.
Together with our statewide candidate for the US Senate Gail "for Rail" Parker, we propose Rail Now solutions. More Trains Less Traffic. We need hi-speed Rail from Danville to Charlottesville, from Charlottesville to Richmond, and on to Washington. Modern high-speed rail utilizes existing right-of-ways. We can run elevated rail right along I-64 and Rt. 29 with minimal disturbance. It is the time to develop alternative energy solutions, and end our dependence on oil.
We must pay closer attention to how government spends OUR money, and to ensure that it is on realistic, long-term solutions. So one of our initiatives is to solve the fiscal crises in our federal budget. We need a balanced budget now. We can to pay off the federal debt in five years. And we can fix the tax code for real tax cuts, not credit card advances.
We are more conservative than our opponents. There is nothing compassionate or conservative in military adventurism. This administration promotes addiction to a new drug called fear. We no longer face facts. We prefer to fabricate them. We lost over 3,000 young American soldiers since Nine Eleven.
Why? For war industry profits. Everyone knows it. One of every four tax dollars are being spent at the Defense Department. From their own report, billions are being mismanaged through "improper payments". And this Congress has been complicit and needs replaced.
We can fix Pentagon waste with an auditable accounting system so we know where our money is going. We can save $2 Billion a week by withdrawing from Iraq. We can save Billions more by closing bases in Germany and Japan. And Billions more by scrapping useless weapons programs.
Now I ask you, what real liberal or conservative would ever sanction the Patriot Act, or NSA domestic spying? Why should we give away rights guaranteed by the Constitution now? They served us well for the multitude of threats we defeated during the last 230 years.
Now it's: be afraid. Be very afraid. Don't worry about your tax dollars going to campaign contributors through no-bid contracts. Don't pay attention while they strip away our rights, or rob our Treasury blind.
We won't hear them say: War as a foreign policy of the United States is wrong. Peace is the answer. Nonviolence is the answer.
We can protest all we want. We can editorialize, we can lobby, we can strike, we can boycott, we can hold endless numbers of meetings. This only gets us so far. If we are going to accomplish real change in government, then we have to resort to action. The only real action against apathy is to get on the ballot and run for office.
Now is our chance to restore the optimism and promise of a world for all to live in peace. Join us as an independent - not bought and paid for by corporate rulers.
We run on positive issues. We listen. We do not sling mud.
Because I am an optimist, I offer solutions that the two parties will not address. Please Join us. Our Web site is www.VoteJoinRun.us. Please Vote Oddo on November 7th.
###